La Bum hosted a group of my friends and colleagues from SoMe (social media) department of nydrle, creative agency based in Prague. The cruise took only 4 days but there was so much fun and exciting moments that it felt at least like a week!
Day 0: Arrival
My aweSoMe crew (Kristina, Danca, Zuzka, Vojta and Roman) arrived to Trieste at midnight of Wednesday, June 28th, together with terrible stormy weather. After 10 hours long car trip everyone was happy to be finally at the boat – even though La Bum was rocked by waves and by boarding of 6 people, theirs' stuff and a 30 liter keg of good Czech beer.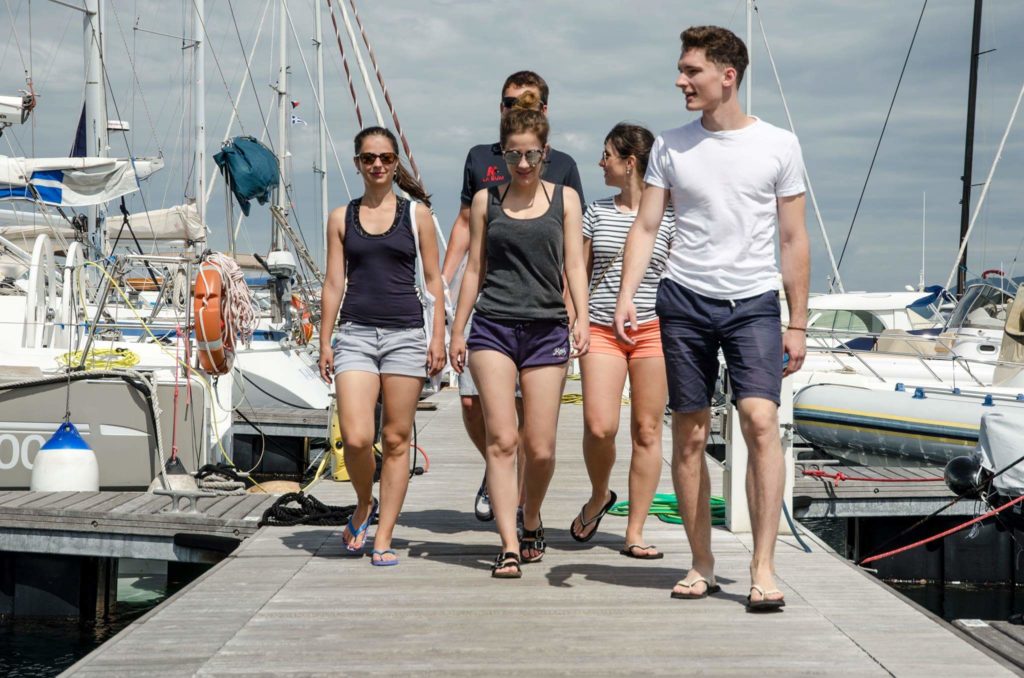 Once boarded, we went downtown for welcome drink and to celebrate the beginning of a big adventure. It was around 1 am, but we found one bar open, and had few glasses of good wine (we couldn't come back to the boat, because we were caught by rain, of course :). And the weather for next day was not looking really well neither. Forecast showed 20 kts of SW wind (gusting up to 35) and 2 meter high waves. I was praying the wind would slow down or something else would come about to stop the waves, but it didn't happen. Everyone was so excited and horny to go out, but I knew it's not a good idea. However, I found a solution – to not cross the Savudrija cape in Croatia but to stay in the gulf of Trieste.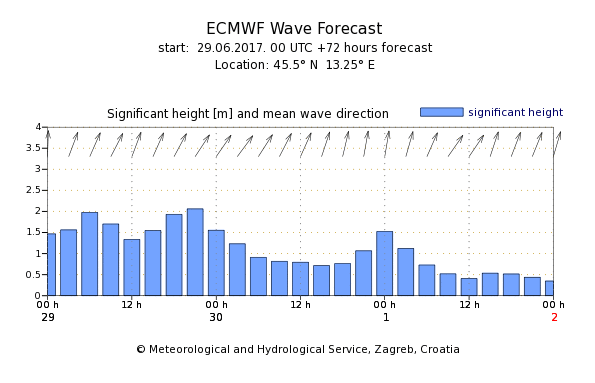 Day 1: Trial in the Gulf of Trieste
Trieste San Giusto – Miramare Castle – Trieste San Giusto (log: 7 NM)
After morning shopping and some formalities at Maritime Police we set out towards Miramare castle. As soon as we left the shelter of marina, we encountered 1m waves, and going on full steam against them made my awesome crew feel the power of the sea – a long awaited moment for everyone.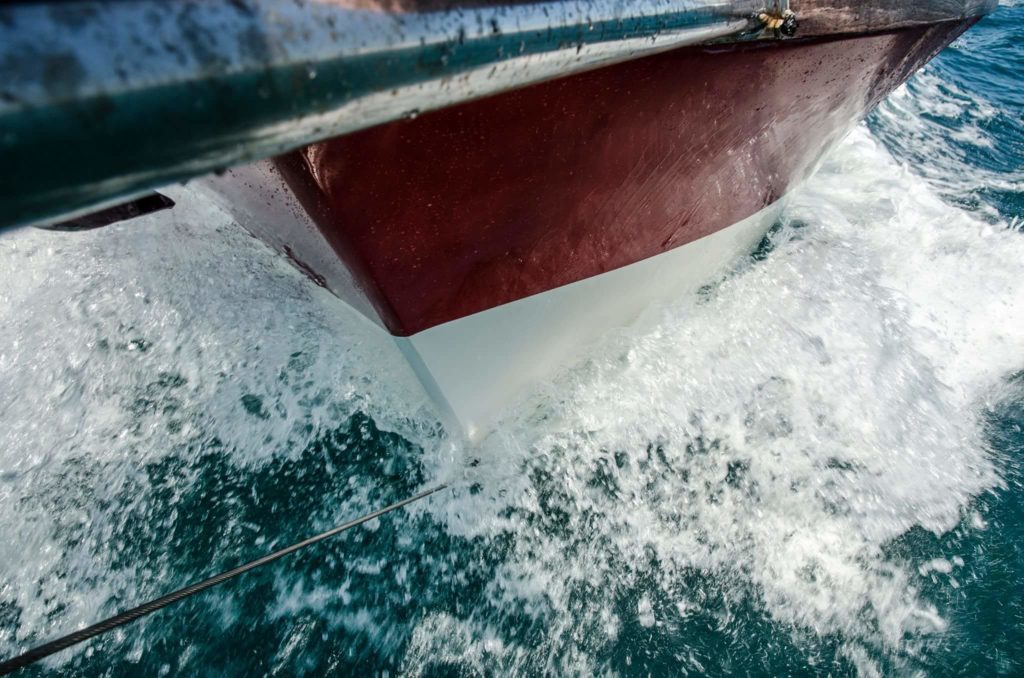 At Miramare castle we turned back and opened the sail to go on close reach against 15 kts, but the wind gradually rose to 23 kts, so we even tried the lifejackets on. Some were excited, some were a bit sick, but everyone was happy. Even I was happy that I hadn't decided to make the passage to Croatia in that bloody waves.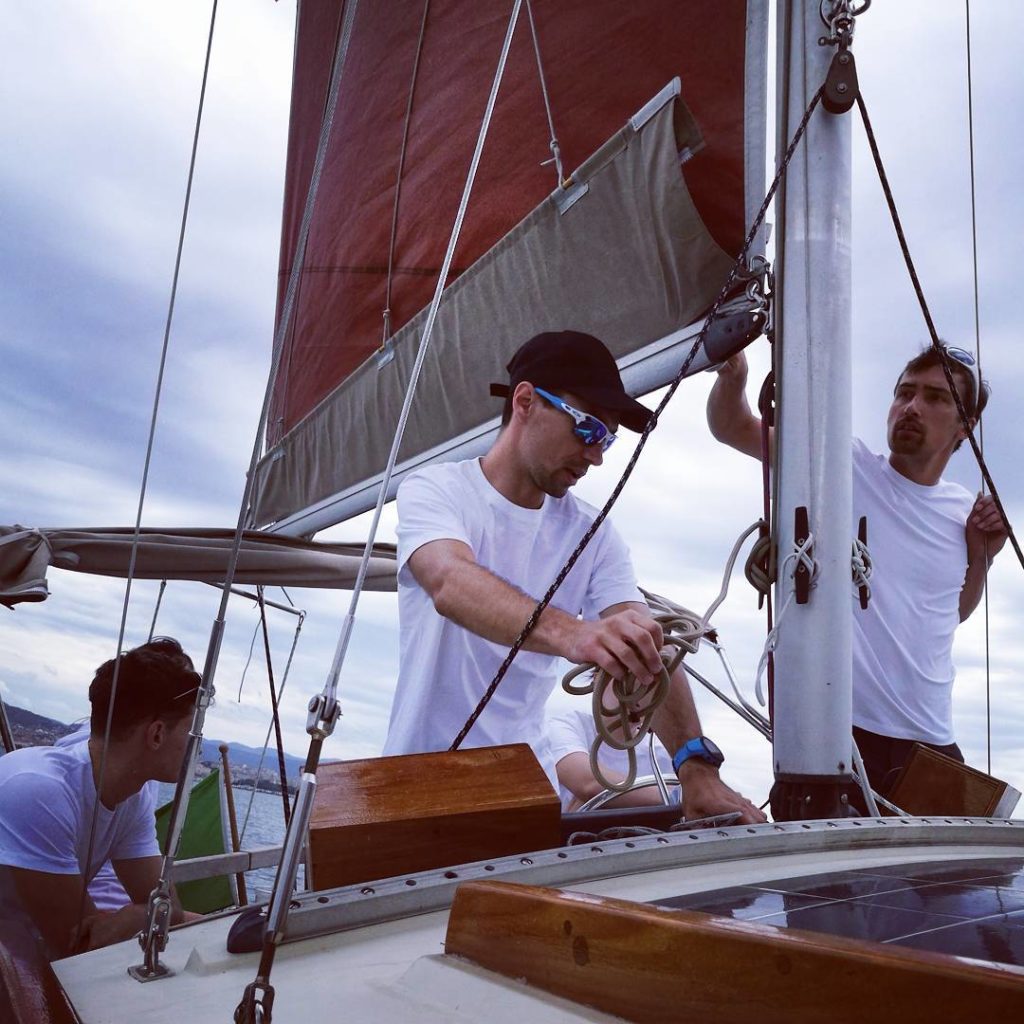 When we arrived back to Trieste, we took a swim and enjoyed some sun in marina. After the sunset we had a splendid fish dinner at Marinato restaurant.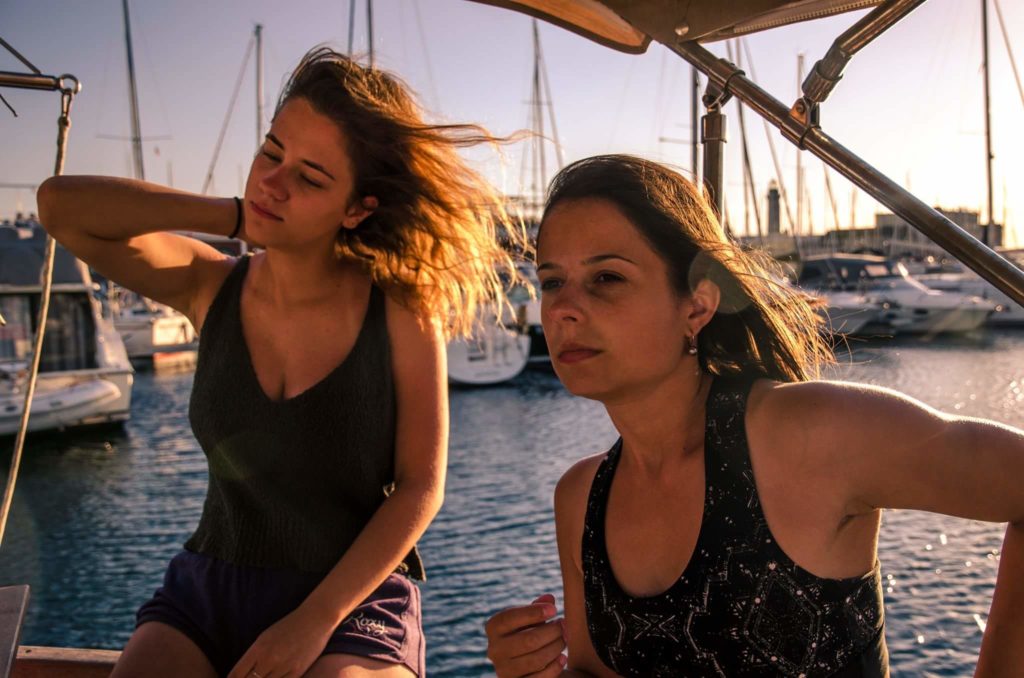 Day 2: Going out for an adventure
Trieste San Giusto – Piran (log: 15 NM)
The forecast for Friday was much better. Only 15 kts of SW wind and waves decreasing to 0.5m.
After an awesome breakfast (eggs with bacon) we headed SW and spent some hours crossing against the weakening wind, training and practising tacks. My crew proved to be very handy at all maneuvres, but it was not enough though to deserve enough wind to reach our destination without the engine. Around midday it fell down to 3 kts so we went swimming and tried to pull ourselfves in a donut behind the boat.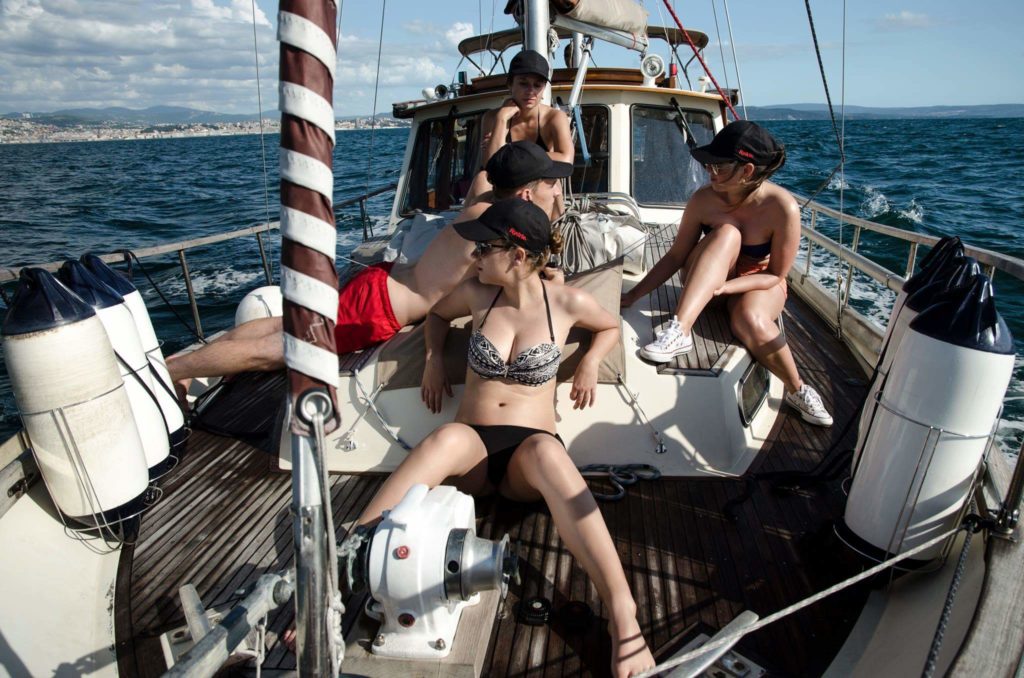 We continued with engine up to Piran, where we anchored under the northern wall of church, which looked to be a good anchorage, 6m with good holding, well protected from the waves going from south.
Our boat and crew was admired by all anchored boats around. All of them went soon away though, maybe they were so green with envy they couldn't watch us partying on the boat or they just had seen the arriving storm… We didn't care so much and crew went downtown with dinghy. They asked me to go as well, but I stayed at the boat, one never knows what will happen. And it proved to be a good idea…
Around 20.00 a huge cloud arrived and wind increased to 20 kts. I was watching the storm on the radar and saw it was passing maybe 10 miles to the north, so we were fortunately on the edge of it. In its center, as Luigi told me later, the wind reached 70 kts. Nevertheless, I had to leave this peaceful but not very safe anchorage. The only problem was that I was in the boat alone.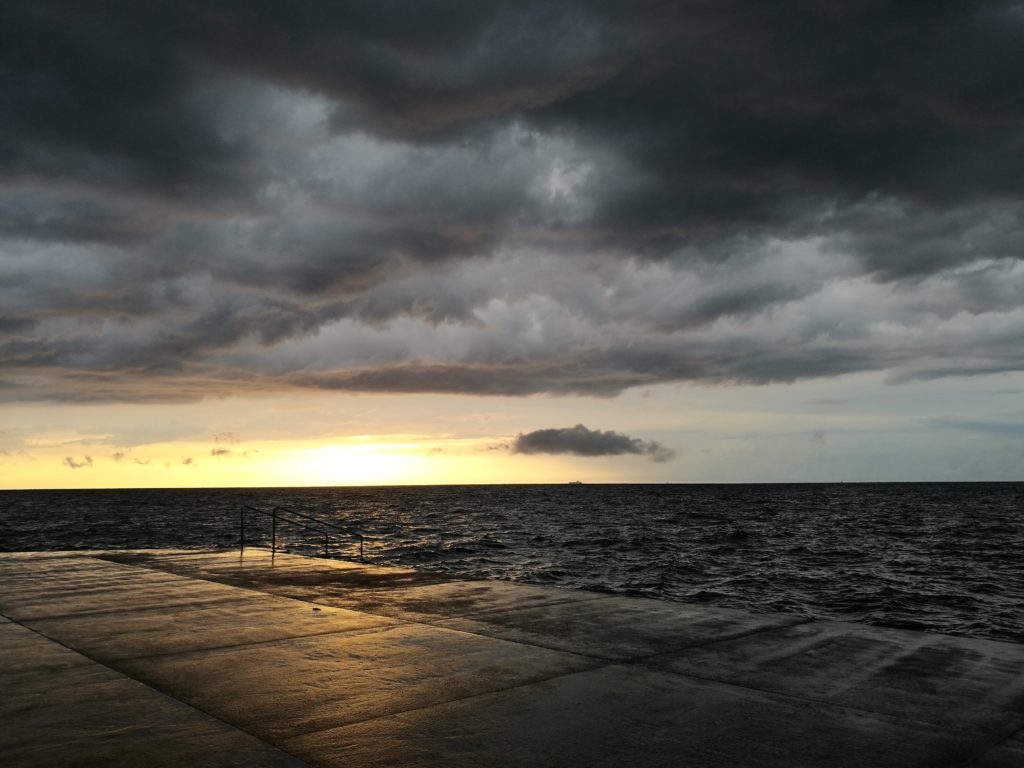 Thanks to the anchor winch control at the inside helm station I was able to do the maneuvre alone. The fuse burnt up later as I was pulling it hard, but I managed to take the anchor out and moved the boat to the port of Piran, where my crew was already waiting to help me with landing. What an action for the first day at sea!
Their only concern when I arrived was: "But we have a dinghy on the other side of the town!" To hell with dinghy, I had to save the boat first… So, when we moored the boat safely, male part of crew went for a dinghy rescue mission, and female part went for shopping. Classic.
On the way to the beach on the other side of the town the storm finally caught us. We didn't care about getting wet, but boys were in slippers and the terrain of distorted castle wall was quite rough. But we made it and dinghy was still there.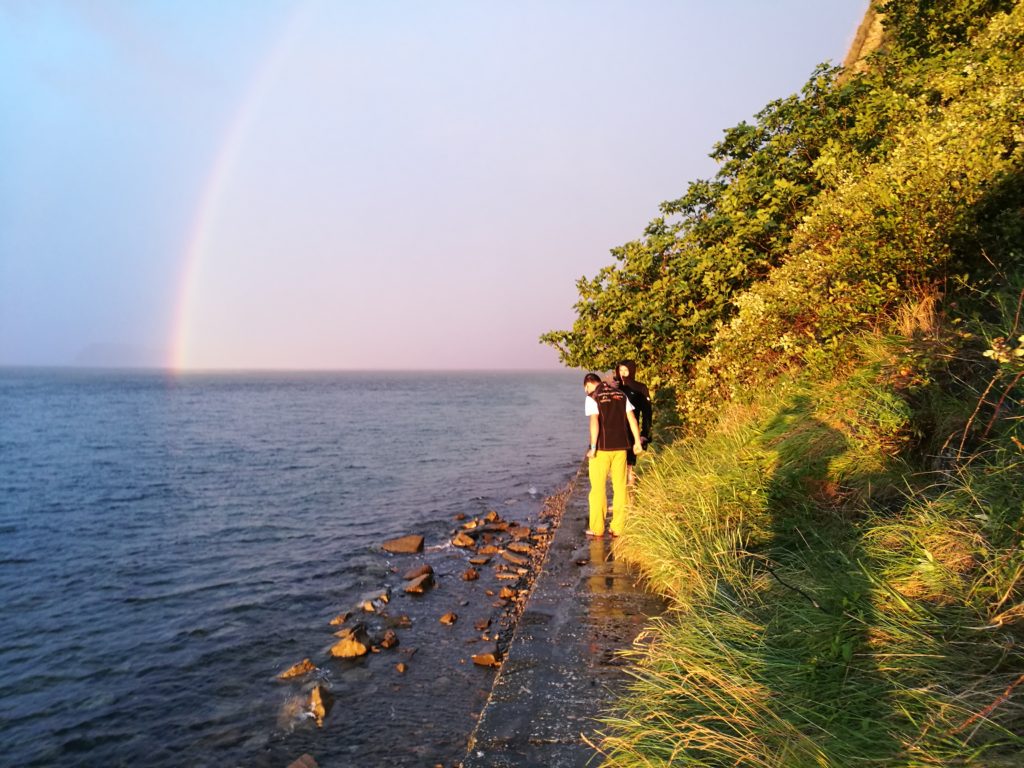 The easiest way to come back was by the sea. "Roman, you have the key to start the engine, don't you?" "Fuck, I don't have it." When we were there, all wet and desperate, we decided to take the dingy on our shoulders and use the dry way.
People were just looking weird, when we crossed the main square with dinghy on Roman's head and engine on Vojta's shoulder. But why not, there was so strong rain that a dinghy might be of some use even downtown. 🙂
Day 3: Hunger and games
Piran – Umag – Lovrecica (log: 19 NM)
The next morning we were so tired that nobody wanted to get up. Hunger forced us, so we got up for breakfast and saw the bad weather is gone and beautiful day of sailing awaits us.
After morning stroll around the centre and city walls, and some photo shooting for our clients, we set out around midday. Wind was blowing 10 knots from W. We sailed for two hours, but crossing against the wind at speed of 3 knots made the crew hungry again, so we kicked up the engine and went straight towards Umag.
At Umag I quickly made the entrance procedure and soon we were sitting at a seaside restaurant. We were all so starving that we ordered twice as much food that would be needed. This outrageous meal took us few hours, but even completely full we had to take a good icecream after and buy some alcohol for the last evening. Aren't 5 bottles of wine too much? Nope.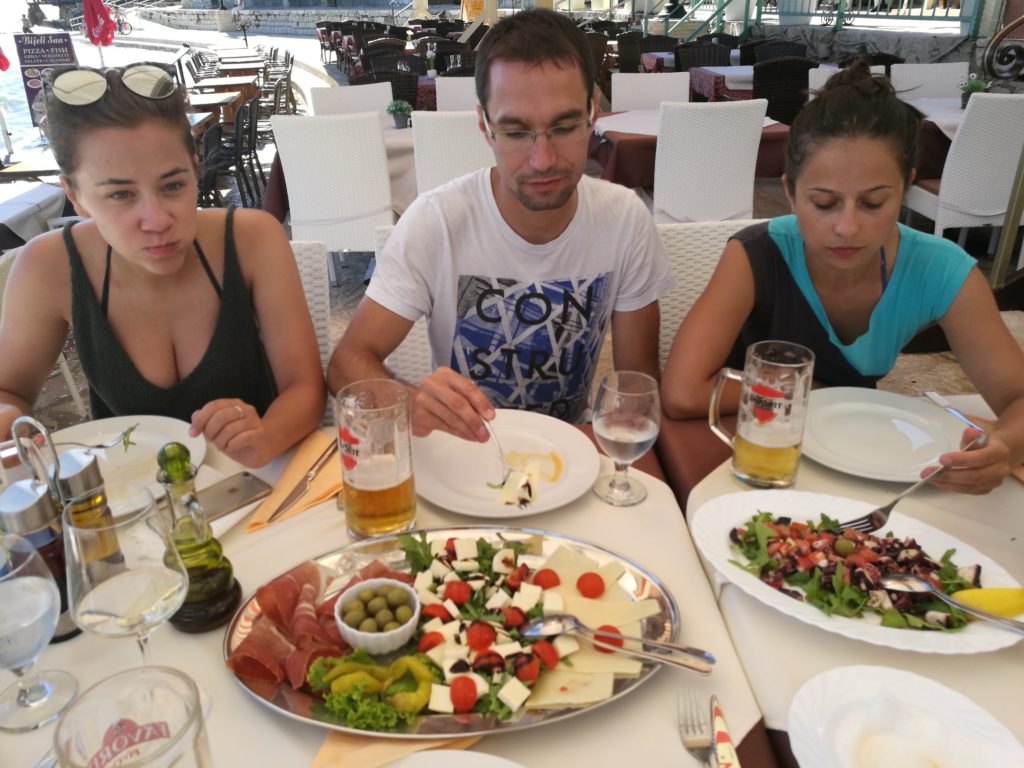 After 19 o'clock we left the port behind and headed towards the closest possible bay, which was U. Lovrecica with a nice church of San Lorenzo. As soon as we anchored we went swimming under the setting sun and then played some funny game with totem. And wine.
Around 2 at night La Bum was still boozing in the middle of an abandoned bay, with naked crew taking bath in the cold night…
Day 4: We want more!
Lovrecica – Novigrad (10 NM)
Last day was relaxing (after the previous wild night), but quite sad as well, as no one wanted to go home.
Around 11:30, after some more photoshooting and pulling ourselves up to the mast, we set out with a little bit of engine and two main sails, to arrive in two hours to Novigrad. There we had an appointment with Luigi, who brought Roman's car from Trieste.
Last lunch together, last icecream and then the awesome crew left for boring way home to Prague.