22/6 Corfu – N. Sivota
The first day of LEG 2. New crew, new skipper, new country to explore. We are leaving marina Gouvia in early afternoon to catch some nice breeze. We go out with the full sail to escape from a thunderstorm building up over Corfu. Roman and Blanka get initial training with sails. For the first night we chose to stay in a beautiful Blue Lagoon, an abandoned bay with turquoise water on N. Sivota near Mourtos.
23/6 N. Sivota – Lakka (N. Paxos)
The second day comes with overcast and light rain. We see a thunderstorm over Corfu again and decide to stay in Blue Lagoon till the afternoon and use some afternoon breeze to take us down to Paxos island. Clouds break up and we go motorsailing with a light NW wind on beam reach to drop our anchor soon at another beautiful blue bay on Paxos island. On the way we switch off the engine in the middle of the sea and take a nice swim.
24/6 Lakka (N. Paxos) – Gaios (N. Paxos)
There's not much wind predicted for today, so we don't rush with waking up. We enjoy some swimming in the bay and because our French neighbors seems to be very annoyed when we switch on the engine to charge batteries, we are leaving to another amazing bay with beach, full of cyprus trees and nice bungalows. We clean a boat a bit, enjoy the water, sun and rest.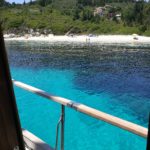 Increasing wind in the afternoon says we should move on. Our water tank and batteries are almost flat, so we head towards Gaios port.
Unfortunately it's not possible to get water and electricity here because all chip-cards are already distributed… Maybe tomorrow. We plan to stay here for one more day anyways. Clouds and some more rain is coming, so we'll enjoy this gem island by our feet or wheels.
In the evening we have our first dinner outside. We are attracted by a grilled pork fatback (true Czechs, haha), and then we finish ourselves with insane waffels with icecream. This night we are all guilty of gluttony!