On 5th May Luigi, Dominik, Mauro and Renato transferred La Bum from Marina Planais to Trieste, marina S. Giusto. During navigation we tested new sails and all equipments.
On Sunday 6th May we did a strong sail and motoring in Trieste gulf with 34 gust of Bora.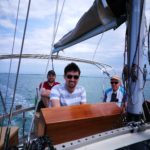 La Bum is almost ready for summer cruise to Greece!