Mai salito su una barca a vela. Otto giorni, cinque tappe, 150 miglia da Lussino in Croazia a Marina di San Giorgio. Di queste, 120 miglia passate al timone con vento che in vari casi ha permesso una velocità  fino ad 8 nodi. Abbiamo passato il golfo di Trieste con il bel gennaker azzurro-blu del Lotos. Non male come prima esperienza. O no? Bella la compagnia: Dominique (il nostro paziente, calmo ed esperto skipper praghese, Jonathan (l'americano da Parigi),  Josefi (da Zagabria) che saluto con molto calore. Un grazie a Luigi, che mi ha invitato e che mi ha dato l'opportunità di vivere questa bellissima esperienza. Molto ho imparato e ancora di più vorrei imparare. Mi prenoto per il mar Egeo. Per quando e se il Lotos solcherà quel mare. Nel 2015? Speriamo. Nel frattempo, un grazie ed un arrivederci a tutti.





Bruno
Pula – Rovinj
28/8 | Day 58 | 25 NM
After morning spent waiting for the wind and enjoying beautiful Pula, we have felt the breeze around noon and left the port swiftly. Still in protection of the gulf we raised the sail, awaiting stronger NE on the 2nd reef. As soon as we got to the open sea, the wind fell down of course! We opened all what we had, trimmed to the sharpest angle and started to race with some other yachts going in our direction. We had lots of fun, especially Bruno, who hasn't left the helm for a single second. I was really afraid he had put some glue on his hands and got attached… 🙂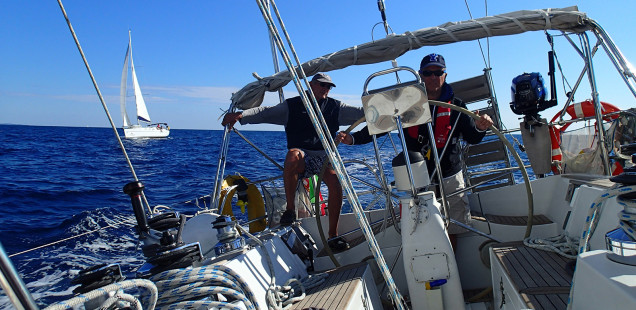 Arrived to ACI marina in Rovinj around 5 pm, nicely tired and happy to take rest. Placed at the end of pier we had an unspoiled view of town silhouette in splendid sunset.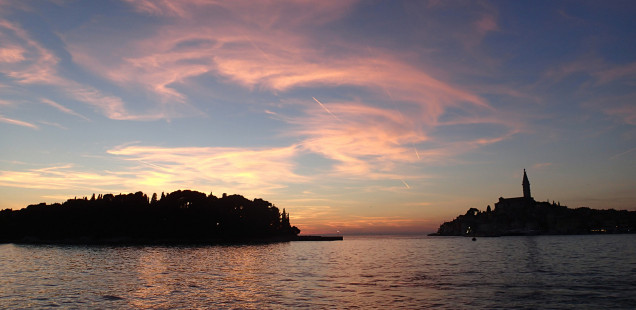 Rovinj – Novigrad
29/8 | Day 59 | 22 NM
Situation with the wind was quite similar like the day before, so we spent morning taking rest or walking around the town and set off again after the lunch. We had to help the sails with engine sometimes to arrive in Novigrad at reasonable time. We got there around 6 and found one of the last spots on inner side of breakwater, the only berthing alternative to the luxurious marina. That evening in Novigrad was a celebration of St. Someone, so there were 3 music stages in the town and loads of people around. We went to take dinner in renowned STARS restaurant on waterfront and managed to stay away from crowds.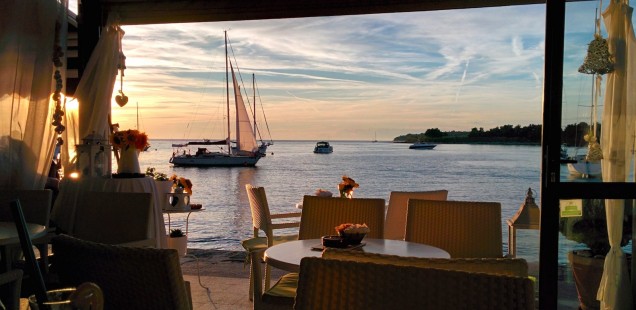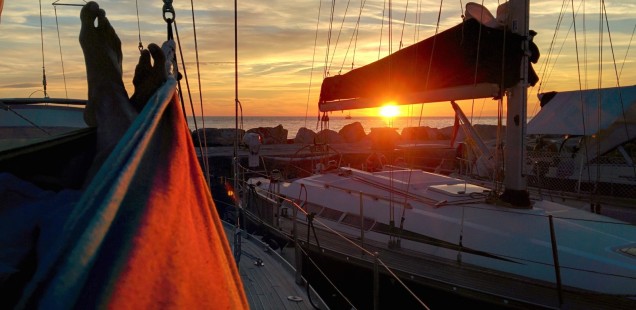 Novigrad – Piran
30/8 | Day 60 | 21,9 NM
Setting out earlier to catch a bit of dying breeze and opening gennaker for the first time in whole summer. Unfortunately, the wind was so low that after making tack we were heading 180 degrees back. We evaluated the situation and decided to close it again and rather anchor in L. Dalja nearby and take lunch. 🙂 After swim, which we believed to be the last one, we went on engine to Umag to make official check-out from Croatia and continued to Piran afterwards.
We arrived to charming Piran around 5 and local harbormaster welcomed us with very clear gesture – look at him yourself, in bottom right corner.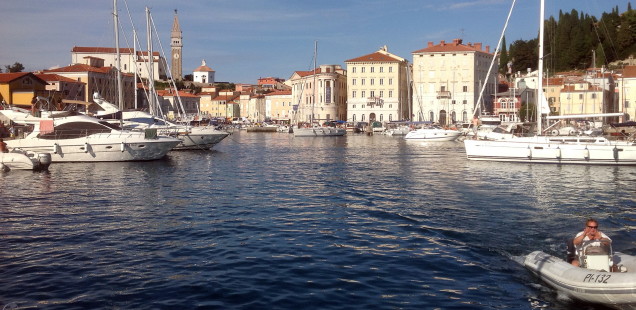 We headed towards Izola marina, but just behind the peninsula on which the town is built we saw many boats anchored. With no predicted wind for the night we decided to stop there and enjoy nice view instead of paying the marina.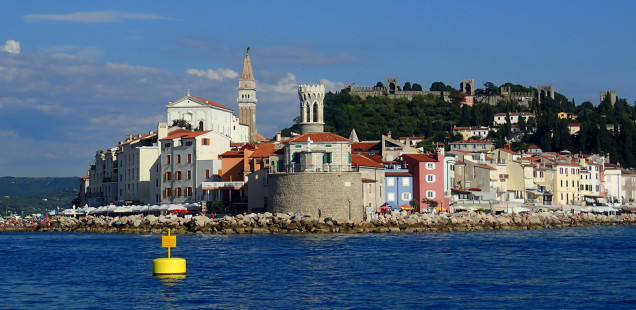 Piran – Marina Sant'Andrea
31/8 | Day 61 | 21 NM
For the last day we set out from Piran at sunrise and crossed the Gulf of Trieste with gennaker on light morning breeze. As you can see on the video, we enjoyed this enormous light sail very much!
[youtube http://youtu.be/kQgl7hvl0Ww]
We got to our final destination, Marina Sant'Andrea, through a marked dredged channel in Laguna di Marano. Luigi manouevred Lotos safely into a pen dock and still before lunch we removed and packed all sails, as we had received forecast of heavy rain for whole next week.
After 1969 nautical miles and 61 sailing days we arrived to the end, safe and sound. Thanks to all of you guys, who have joined us!
See you next time, I will take now a break from nautical activities and focus on my studies for a while.. Your skip Dom