Primošten – Kaprije
20/8 | Day 52 | 15 NM
No wind at all. Slow motoring towards Kornati, taking sun and rest. As the wind for night was predicted to increase from SW, we took shelter in Kaprije bay, and slept safely on a mooring buoy.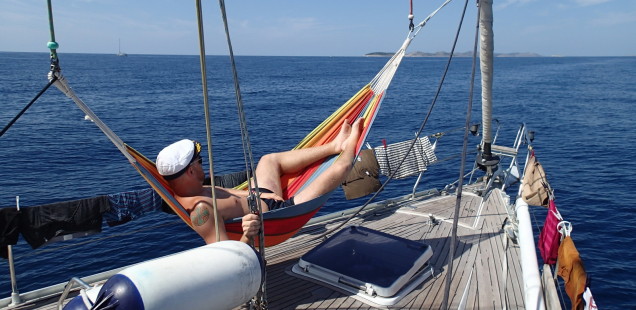 Kaprije – Pašman (U. Soline)
21/8 | Day 53 | 38 NM
And the wind really arrived. Since the morning sails up with good 17 knots from back. Sailing through the National park Kornati with its barren white limestone islands, divided by numerous stony fire-walls. Deep cliffs of island Mana, passage through the M. Proversa straight and moto-sailing towards Pašman, where we moored on one of the last available buoys. Exhausted after a long day we went for a dinner to one local family-run konoba, where we got a three course menu with nice fish and traditional grappa, all for price of one course in a big town. Skipper sacrificed his headlight to the god of sea.
Pašman – Molat (U. Jazi)
22/8 | Day 54 | 32 NM
Calm sea, whole day motoring, skipper taking rest. Anchored in wide bay U. Jazi on the northern side of Molat. Pressure falling down, rainy weather approaching.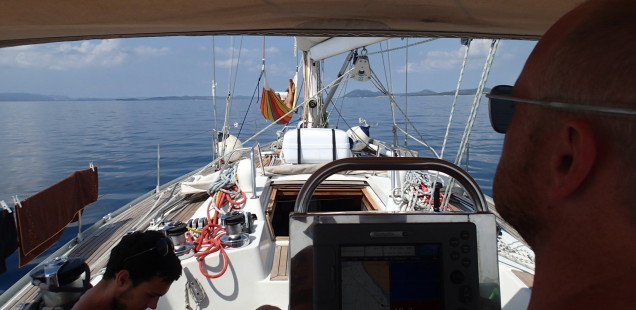 Molat – Mali Lošinj
23/8 | Day 55 | 34 NM
Southwest wind brought clouds and rain, as expected. We set off under full sail in pleasant 10 knots of wind with plan to reach Losinj and meet our new crew member Bruno in the evening. Prediction of isolated thunderstorms has not scared us off. Close to the island Premuda, around the lunchtime, a huge black cloud appeared in front of us and after checking the radar we immediately steered to the closest anchorage. The cloud was getting near very quickly. We dropped the anchor in a bay protected from SW (which was the direction of the wind), and as soon as we anchored, the rain started.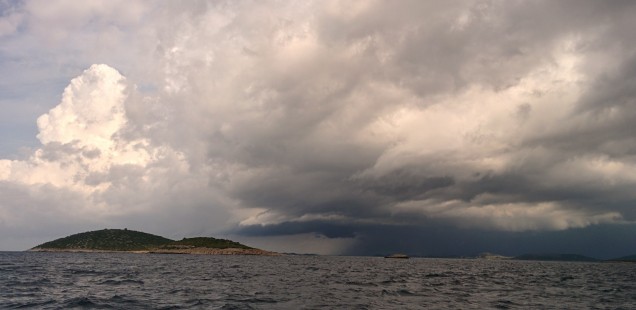 Time between lightnings and their thunders was getting shorter and shorter, and increasing rain and wind started to lash our faces. Wind unexpectedly turned 180° and our bay became completely open to the sea, which with wind above 30 knots immediately heaped up to 1,5 meter high waves. Maybe too much scope on wrong place, or just not solid bottom, but we got too close to the shore. We had to reanchor, notwithstanding the strengthening gale. Luigi sacrificed himself and went on the bow to control windlass and get a proper shower both from skies and the sea.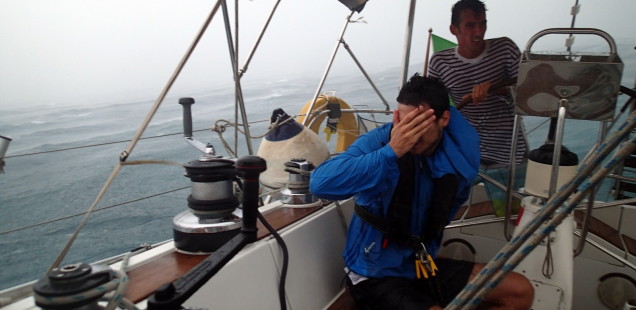 Against the wind gusting up to 37 knots we had to use full throttle to move out. At this least suitable moment the center of the gale came over us and lightning struck to a hill nearby. We dropped gale-amount of chain and left the engine on forward to reduce some load. Soaked skipper finally had a second to go down and get dressed, and always prepared Luigi took the helm for half an hour, until the gale moved away.
[youtube http://youtu.be/lEIqo7PsIM4]
Gale ended as quickly as it started. A bit shaken we raised the anchor and motored out towards our destination. Some more rain washed us underway, but nothing serious compared to that one. We arrived to beautiful M. Losinj around 5 pm. Bruno arrived soon and met a bit wet and exhausted crew.
We enjoyed one day of rest here, some rented a bike to go around, others went hiking in awesome pine-woods. Weather has settled and allowed us to plan crossing of Kvarner gulf for the next day.
M. Lošinj – Medulin
25/8 | Day 56 | 31 NM
Wind picked up during the night and 17 knots of NE literally pulled us out from beds. With the first light (somewhen around 9) we left the quiet Losinj behind and with reefed sails headed into the Kvarner gulf. With beam wind we passed it more quickly than expected and arrived to Medulin bay around 2 pm. We took a good lunch and announced the fender cleaning contest for afternoon. Everyone took his own fender and rubbed it so long until was white.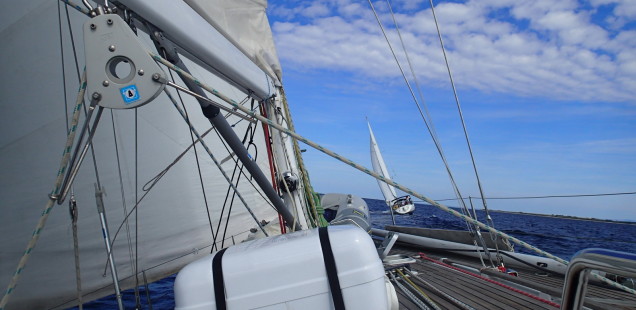 Medulin – Pula
26/8 | Day 57 | 25 NM
Next day we enjoyed nice sailing as well. First of all we had to fight our way against SW wind up to the cape Porer, but after that we were rewarded by a nice broad reach until the most popular town of Istria, famous Pula.
Jon had to accept an urgent job offer, and sadly left us the next morning. To be original, as everyone at 6 o'clock. Not only us, but even the clouds started to cry. (or it might be just the southwesterly wind which brought the rain again)..
Some spent the next day around sights of Pula, some hunting gifts and internet. Josip has received emergency call from his family next morning and had to leave us immediately. Last three of us remained standing.