Dubrovnik – Slano
14/8 | Day 46 | 15 NM
Again we left marina in Dubrovnik very close to the threshold 14 o'clock. We headed west to the Elaphite islands which we had missed last time. With occasional help of wind we sailed to a bay of Lopud, where we took a swim and some more rest after last tiring days.
After five o'clock we raised the anchor and set the sail towards shelter in a big mainland inlet with town called Slano. After dinner we made excursion to the local bars, tasted several local distillates and then organised a small booze cruise on our tender. When the wind took us too far from the coast, we started the engine and came back to Lotos for another conversation game and then went sleep.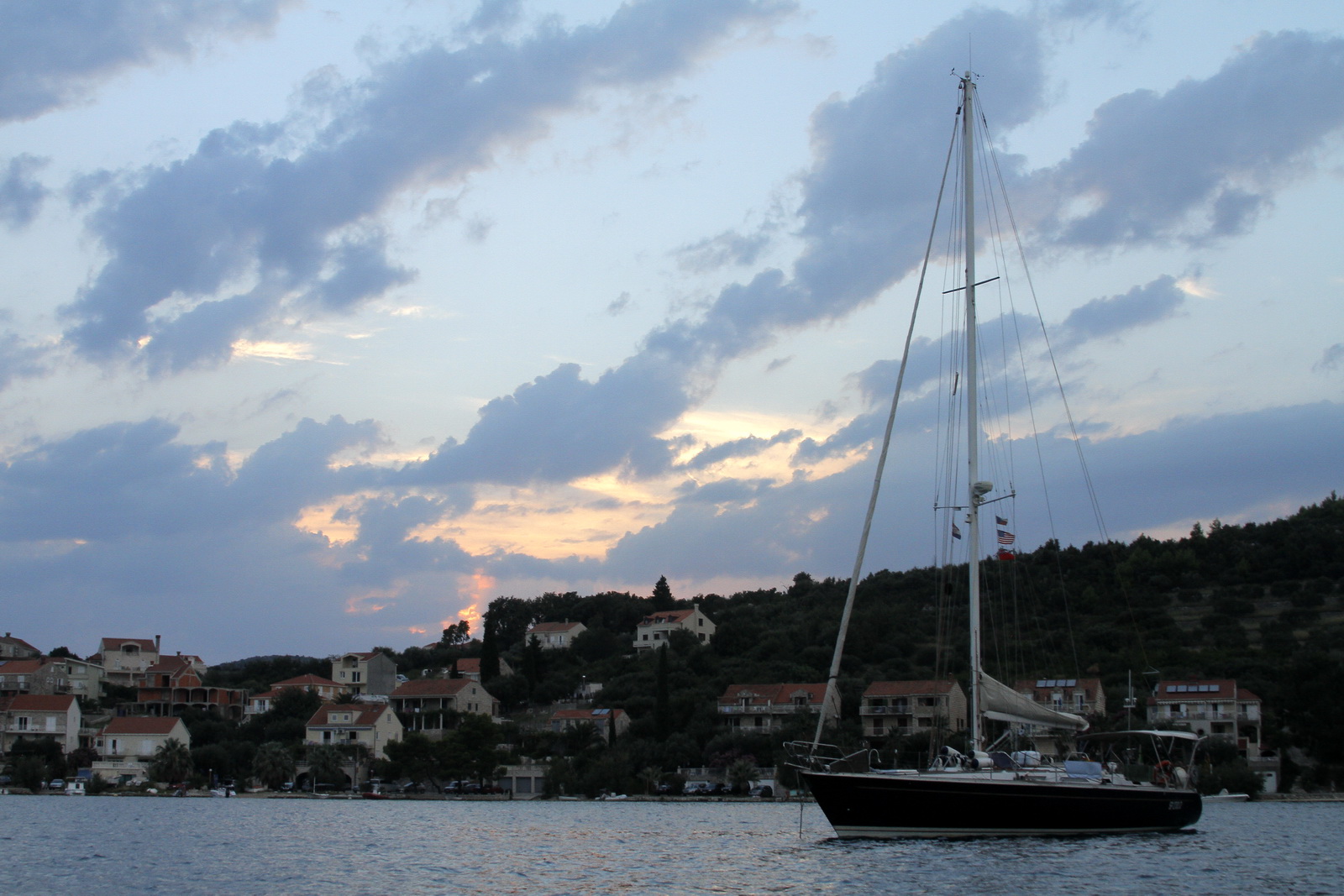 Slano – Mljet (U. Prožura)
15/8 | Day 47 | 11 NM
Sailing again trough Elaphite islands, on light westerly wind we got to our destination – wooded island Mljet – by the lunch. Firstly we anchored off in bay Prožura, but official boatman collecting mooring fee told us that there is no difference between anchoring and mooring on the buoys, so we paid 200 kn and after lunch moved to the buoy. Courtney, Matthew and Jon took the dingy to a nearby rocky island to snorkel and climb it to get some astonishing pictures.
As this was the last calm place before departure of Courtney, we winched her up to the mast to get her last GoPro panorama shot. You can see it together with more amazing footage below.
Mljet – Korčula
16/8 | Day 48 | 30 NM
We set of early in the morning (some-when around 11) and headed west along the island towards the channel connecting Mljet with Korčula. We anchored off one rocky spit called Rt. Maharać, still outside of the National Park (where the anchoring except few designated bays is forbidden) and took quick lunch there. Then the wind finally arrived, so we could easily pass to Korčula under full sail.
As we were getting closer to the town, famous funnel effect between Pelješac peninsula and Korčula slowed us down a bit, so we arrived around 17 o'clock. Despite that we called the marina half an hour in advance and reserved the place, we were turned down on arrival, so we had to moor on the W town quay, unhappily still exposed to wind. Fortunately it fell down during the night, but the sleep was still more wavy than we were used to.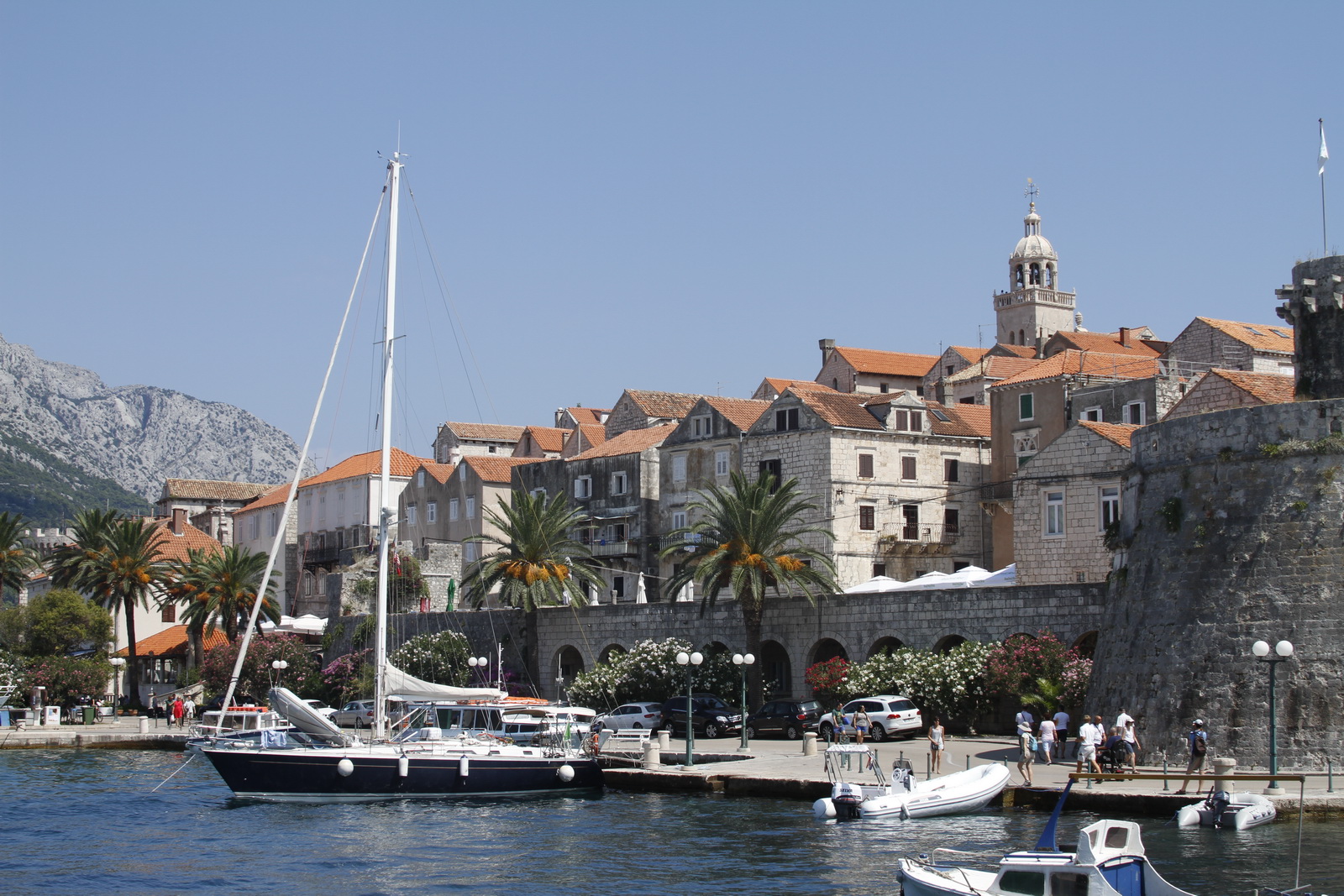 Korčula – Šćedro
17/8 | Day 49 | 34 NM
Courtney has left us at 6 am to catch her bus to Dubrovnik, and maybe due to that fact we finally got a proper wind. We started with second reef and half of genoa, and whole day long we didn't need to hoist more. Wind was mostly westernly in range between 20 to 28 knots and we enjoyed tacking against until the very last moment.
We arrived to a big bay U. Lovišće on O. Šćedro with last rays of sun, and dropped the anchor close to a massive flotilla, counting some 20 sailboats anchored and roped together in one huge party town.
Šćedro – Hvar
18/8 | Day 50 | 17 NM
Inspired by the partying fleet we headed towards Hvar and his famous Carpe Diem nightclub. The wind was a bit lower than the day before, but still strong enough to let us sail most of the day, how else than close hauled. We anchored at the same spot like last time, in front of Hvar bay in some 20 metres of depth (happy that Luigi has got 100 metres of chain). We welcomed our new crew member Josip, who came from Zagreb. We went for a stroll around the old town, climbed up to the Spanjola fortress and then came back to boat for dinner. After good food and some rest, trio JMJ took the dingy back to town to explore local beauties and feel the heat of the night. Captain after the last experience stayed on the boat.
Hvar – Primošten (Marina Kremik)
19/8 | Day 51 | 41,4 NM
Maybe some sacrifice to the god of sea was made last night, or it was just his good deed, but for our next passage the wind has turned and started to blow straight into our back. After several days of sailing on close reach (40° against the wind) we finally tried the dead run (wind straight on the back), and more than this we installed the spinnaker pole and enjoyed a wing-to-wing butterfly sailing.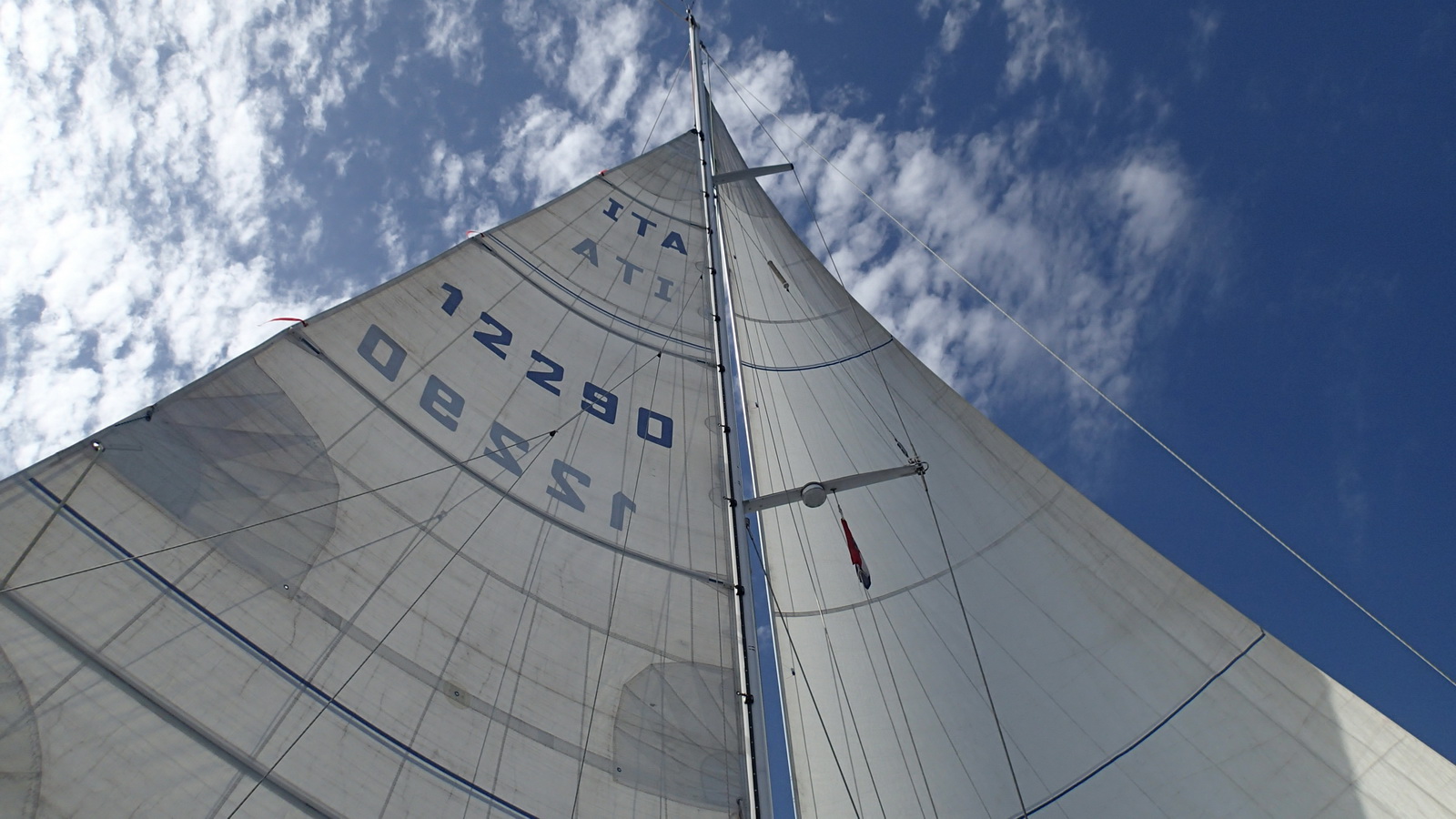 We were going so fast that we litteraly missed the town of Primosten on our approach and we had to come back a bit against the wind. Around five o'clock the town quay was of course completely full, so as we needed to charge batteries and get some water, we went another 20 minutes to Marina Kremik nearby.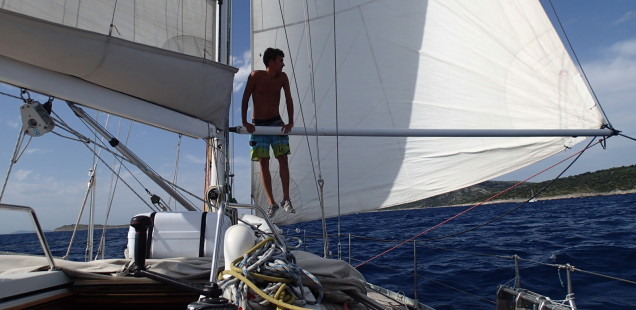 Matthew has departed the next morning and the #bestcrewever was finally shattered.